▸ Click here for the Japanese page
Name
City Cruise Co., Ltd.
Establishment
April 1, 2005
Capital
100 million yen
Representative
Naruhiko Amo
Address
Fujihisa FJ Nakanoshima Building 7th Floor, 4-3- 25 Nakanoshima, Kita-ku, Osaka-shi
TEL
06-6445-0007
FAX
06-6445-1800
EMAIL
info@city-cruise.com
Business Description
Real estate sales and development, real estate consulting, brokerage and leasing
Affiliated Organizations
Osaka Takken Association
National Association For Real Estate Transaction Guaranty
Acquisition License Number
Real Estate Brokerage: Governor of Osaka Prefecture (4) No. 51459
Financial Instruments Business Type II: Director-General of the Kinki Local Finance Bureau (Kinsho) No. 155
April 1, 2005
Began preperations for business establishment
January 1, 2006
Became independent based on the independence support system of Recruit Cosmos Co., Ltd.
Company established
Naruhiko Amo named representative, business commences
May 11, 2005
Obtained real estate brokerage license
September 30, 2007
Registered as a Type II financial instruments business operator
November 18, 2014
Established CITY CRUISE MYANMAR COMPANY LIMITED
as a subsidiary in Myanmar
November 1, 2021
Naruhiko Amo became a director of Cube Earth Co., Ltd.
Greetings from the President
Contributing to social development through
information-based real estate business.
City Cruise is a comprehensive real estate developer engaged in the real estate development and real estate consulting businesses.
One of our distinguishing features is that we do business all over Japan. In order to be able to propose real estate development that maximizes the potential of the land in so many regions, you have to gather in-depth information. Information plays a major role in real estate related businesses. Since our founding, we have considered information to be a valuable force that drives our projects, and we will keep collecting information from various people and companies to evolve and develop our company as our business also evolves and develops.
I was recently appointed as a director of Cube Earth Co., Ltd., which has technology that can manage location information for all space on Earth. Accordingly, I would like to take up the challenge of combining the real estate and IT industries.
We want the real estate development offered by City Cruise to be fresh and new, high in quality, and of unique value to both the industry and society. We will continue our efforts going forward and take on new challenges to achieve this goal.
Naruhiko Amo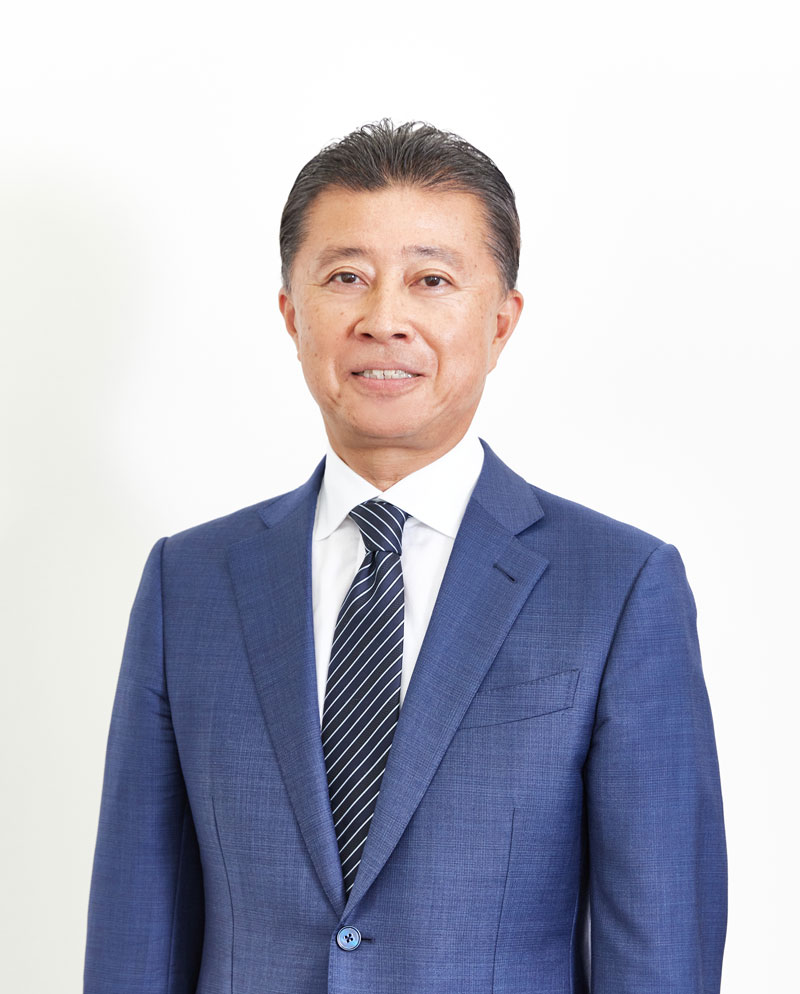 Corporate Philosophy
Using the ability to enjoy work
as the power to create new value.

Enjoy your work. Master the ability to enjoy it. –We believe that this is the most important attitude to have when engaging in business. This basic attitude is what enables us to gain a deep understanding of situations in the field, accurately grasp our customers' needs, and create new value.

We take pride in the power of genuine solutions backed by a wealth experience. We aim to lead the remarkably changing real estate industry and carve out a new era with flexible planning, quick decision-making, and precise information gathering capabilities.

To be a comprehensive real estate developer leading the next generation.
Today, our employees continue to move forward in search of the best answers.
City Cruise Credo
Each day, I will conduct myself so as to
make City Cruise a company I can be proud to be a part of .
Partnership
I will build strong personal relationships by always considering the benefits to our business partners and customers,
and acquire lifelong City Cruise partners.
Behavior
I will always remember to feel grateful for my customers and colleagues,
and always be humble, sincere, and prompt in dealing with them.
Product Planning
I am willing to work hard and go out in the field to accurately understand the needs of our customers,
and I will continue to create products that will incorporate new values and usher in a new era.
Approach to Work
I will always give my best in everything I do without being satisfied with the status quo,
and as a professional, I will steadily give shape to the "City Cruise Commitment."
Work Objectives
Through City Cruise, I will enhance my potential as a human being by setting clear goals and repeatedly reflecting and moving forward.
Security
I will protect the privacy and security regarding
confidential information and assets of our business partners, customers, colleagues, and the company.
Compliance
In order to fulfill our social responsibility as a company, I will comply with laws and regulations
and conduct company activities with integrity and in accordance with common sense.
Environmental Upkeep
I will work to keep my surroundings in order and maintain a clean, comfortable work environment.
Character
I will always maintain proper appearance, use proper language, and show respect as a human being to others at all times.
Health
I will take thorough care of my health to be in the best possible condition when I do my work.
Family Ties
I will take good care of my family and share with them the joy of working for City Cruise.
Contact Us
Use the contact form to get in touch with City Cruise
with any questions or advising inquiries.